Issue 175
The end of EdgeHTML, unusual shapes, WCAG 2.1, CSS Resets, and responsive images.
News
Issue 175
I'm in Orlando at day 1 of The Mozilla All Hands, a nice chance to get together with the folk I work with as a writer for MDN, and also to hear about all the plans Mozilla have for the future.
After this event I hop on an airplane and cross the country to San Francisco for the last An Event Apart of the year, and the first time I give my new talk - which is both exciting and terrifying! An Event Apart are very kindly sponsoring this issue of CSS Layout News, they are starting to unveil the full line-ups for next year. It's going to be amazing, I hope to see some of you there.
Rachel Andrew, CSS Layout News
---
I woke up in Orlando to Twitter already alight with the news that Microsoft are dropping EdgeHTML to build a new Chromium powered browser. I am sad about this. A rendering engine monoculture is not a good thing. I really hope that Firefox can regain market share, I think they have a chance in terms of their stand on privacy and security as the general public become increasingly aware of what they are handing over via their web browser. We shall see.
Learn
A video showing the various ways to create and wrap unusual shapes.
---
"The WCAG working group have added 17 success criteria to the 61 that they released way back in 2008—for context, that was 1½ years before Apple released their first iPad! These new criteria make it easier than ever for us web geeks to produce work that is more accessible to people using mobile devices and touchscreens, people with low vision, and people with cognitive and learning disabilities."
Alan Dalton gives a plain English guide to the updates.
---
A look at CSS Resets, considering how necessary they are today given that browsers have more similar default styling.
---
A thorough look at how responsive images behave on the Apple Watch now that it is running a web browser.
Interesting
If you read this email then you have self-selected as a person who likes to read things. Over the next few weeks you are in luck with all the Advent calendars that are running. I rounded them up here.
Our Sponsor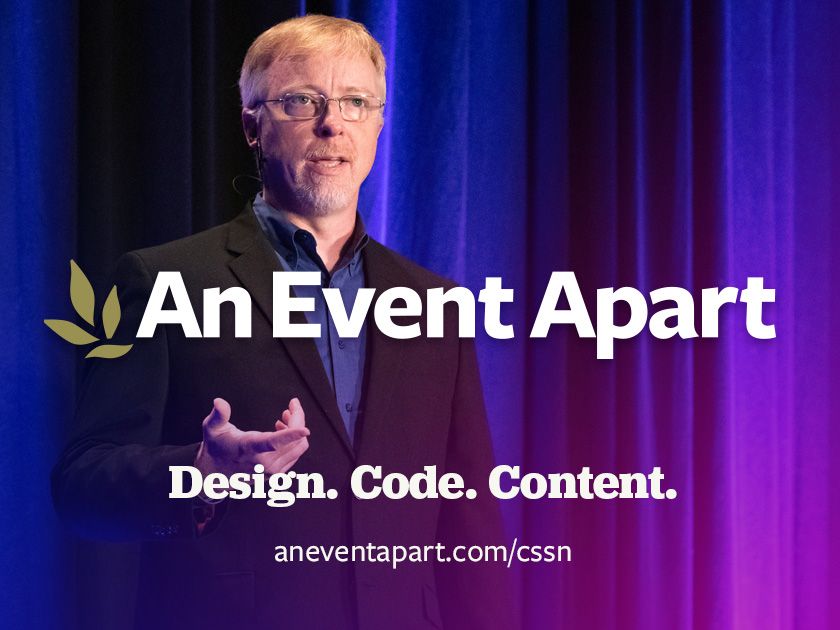 Attend An Event Apart to be ready for any challenge the industry throws at you. From design systems to variable fonts, from CSS Grid Layout to new ideas in accessibility and inclusive design, you'll learn from the pioneers leading the most important movements in UX and front-end design and development.
Level up your skills and gain valuable insights during three days of painstakingly curated presentations by 17 trailblazing innovators. Our speakers are industry leaders with decades of experience—inspiring thinkers who are passionate about helping you level up your skills. And at AEA, you don't just learn from the best, you interact with them: at lunch, between sessions, and at our first-night Happy Hour party.
CSS Layout News readers save $100 off any 2 or 3 days with code AEACSSN.
CSS Layout News Newsletter
Join the newsletter to receive the latest updates in your inbox.