Issue 177
Firefox 64, Shadow DOM, Variable Fonts, CSS Gradients.
News
Issue 177
I'm expecting a good flurry of AutoResponders as this goes out as I know some folk are already out for Christmas. I'm enjoying being at my desk, with an external screen rather than working on a laptop. This week I'm working on the CSS for a print magazine for Smashing Magazine. Writing CSS for print is great fun, the only way to test it is to build a PDF, but then once it has worked - it's done! Very different to working on the web.
My sponsor this week is An Event Apart. I'll be speaking at all of the events next year, along with an amazing line-up of lovely people. Do check out the offer at the end of this email.
For those of you who celebrate Christmas, enjoy the run up to the day, and safe travels for all of you heading off to see family and friends.
Rachel Andrew, CSS Layout News
---
I prepped last week's newsletter too early to include the Firefox 64 announcement, so here is a post on the Mozilla Hacks blog with all the details. Included is the CSS Scrollbars properties, and some features of Media Queries Level 4 and 5.
Learn
I wrote up some information about how to research a property in a CSS spec, as once you know where to look it's not hard to do and can save you a lot of time and effort.
---
An explanation of Element.scrollIntoView(), what it is and why you might want to us it.
---
A nice explanation of the Shadow Dom from Ire.
---
The web is entering a new era of design opportunities with the introduction of CSS Grid, Photoshop like effects such as filters and blend modes and importantly the increasing support for Variable Fonts.
Watch this video of Mandy's talk from dotCSS this year.
Interesting
A nice CSS gradient generator to help you play with and explore CSS gradients.
Our Sponsor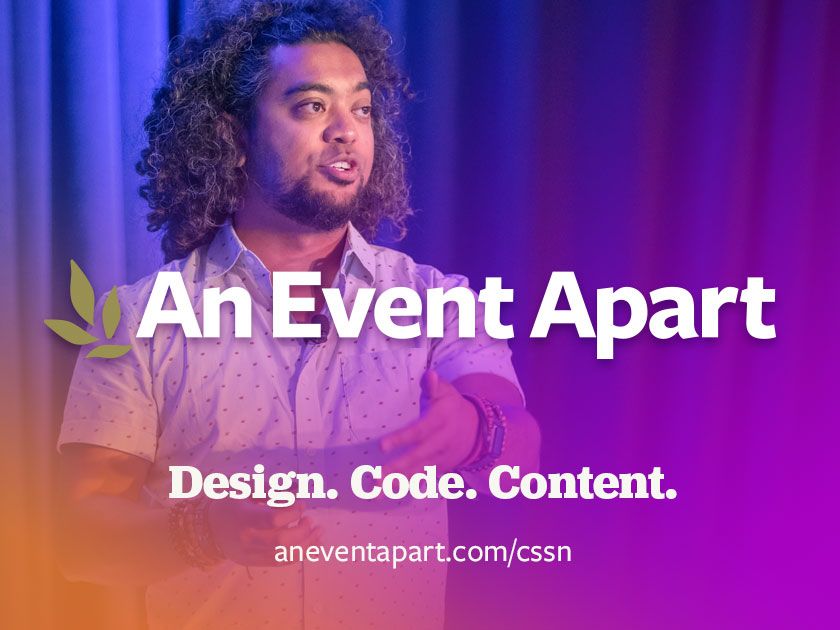 If you're like most of us, you're too busy working to think about your career. But while you're heads-down getting stuff done, the web races forward. How you can keep up and stay inspired? That's where we come in. Level up your skills while learning from 17 brilliant speakers over 3 days of delightfully curated sessions.
From design systems and Progressive Web Apps to variable fonts and CSS Grid Layout, you'll learn from the pioneers leading the most important movements in web development and design. And at AEA, you don't just learn from the best, you interact with them—at lunch, between sessions, and at our famous first-night Happy Hour party.
Web design is more challenging than ever. Attend An Event Apart to be ready for anything the industry throws at you. CSS Layout News readers save $100 off any 2 or 3 days with code AEACSSN.
CSS Layout News Newsletter
Join the newsletter to receive the latest updates in your inbox.