Issue 193
Native lazy-loading, z-index, digging into the display property, and can I stop using IE11?
News
Issue 193
I am in a very snowy Quebec City at the W3C Advisory Committee meeting representing Fronteers. I gave a short presentation about recent additions to CSS, and the slides are here. After this I am flying back to the UK, and due to very poor scheduling back out to San Francisco on Friday for a sold out Smashing CSS Layout workshop.
My next trip will then be to Boston for An Event Apart, who have been kind enough to sponsor the newsletter this week. There is a great lineup of speakers waiting for you in Boston, and at the other events this year so check out the link at the end of this email and I will see you there!
Rachel Andrew, CSS Layout News
---
Not shipping in a browser yet, but will be a very useful feature, and something we have been doing in JavaScript for years.
---
Features of interest to this list include Intersection Observer and dark mode for the web. The HTML5 color type is also being supported, allowing for a native color picker when using this type.
Learn
In another of my articles digging into the detail of a CSS property or value, this time I'm looking at display, and what you really are doing when you change the value of the display property.
---
Here is a great resource on using colour, while keeping accessibility in mind.
---
A useful article about the z-index property, in particular in complex component-based applications. Some tips about principals to work to, in order to not to end up in a mess.
Interesting
If you have data from your existing site then you should use that, but for people building a new site and wondering how many people use IE11 in their target region, here is the data. Remember that "support" can mean many different things. Using a progressively enhanced approach should mean you can offer a simpler experience to the few users you have on older browsers, even if you don't try to give the full experience.
Our Sponsor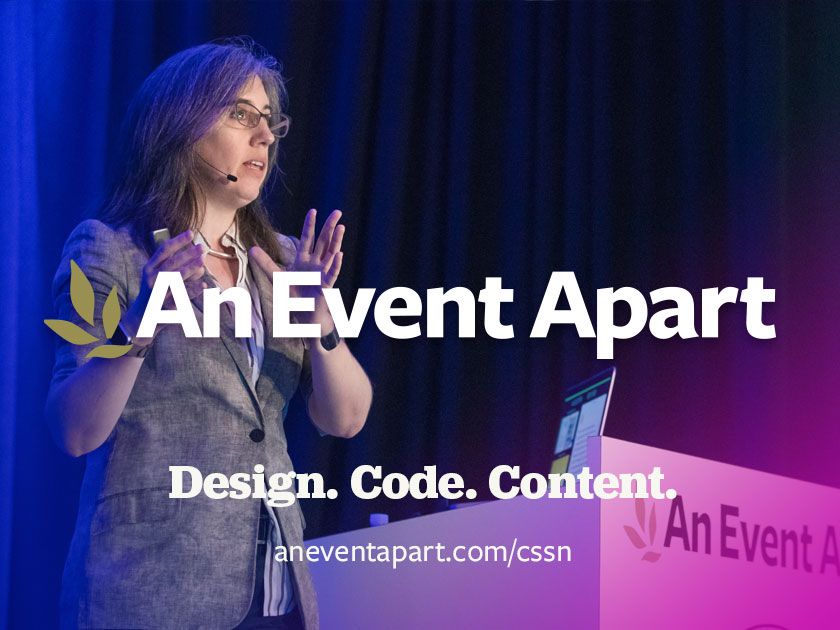 Find out how new design technologies can unlock your creativity, liberate your layouts, and empower you to design experiences only the web can deliver. It's just one of many new superpowers you'll acquire at An Event Apart, the web conference for UX and front-end professionals.
Whether you join us in Seattle or Chicago, Boston or Denver, Washington DC or San Francisco, you'll learn from your favorite designers, developers, and strategists—folks whose work has illuminated your professional path for years. Along with the pioneers who created our industry's best practices, you'll also hear from exciting new voices.
And at An Event Apart, you don't just learn from the best, you can also interact with them between sessions, at lunch, and during our opening night Happy Hour party. CSS Layout News readers save $100 off any two or three days with code AEACSSN.
CSS Layout News Newsletter
Join the newsletter to receive the latest updates in your inbox.