Issue 202
More on subgrid, CSSconf EU videos, aspect ratio images, and focus indicators.
News
Issue 202
I arrived back in the UK on Friday morning, and headed straight to Bristol. Before heading home however I stopped off at the Pixel Pioneers conference and gave my presentation Grids All The Way Down. I've never been so glad to have a flight land on time!
I'm now in Amsterdam, in an Airbnb which has two cats! I'm here to speak at CSS Day, the Fronteers meetup, and also to run a specification reading workshop tomorrow for Fronteers.
Thank you to An Event Apart for their sponsorship of the newsletter this week. The next An Event Apart will be in Washington DC and I'm already looking forward to it.
Rachel Andrew, CSS Layout News
---
My post for the Mozilla Hacks blog, with demos and information about the subgrid implementation which is now in Firefox Nightly.
---
I've written about the possibility of an aspect ratio unit for CSS in the past. Chris writes up a discussion which started at CSSWG face to face last week where Firefox are experimenting with making it even easier by taking the aspect ratio from width and height values already in HTML.
---
Safari TP 83 fixes some Grid issues and also implements display: flow-root.
Learn
Here is the video of my talk at CSSconf EU. You can find the slides, code and other resources on my Notist page for the talk.
---
A post explaining how to provide, and certainly hy not to remove, focus indicators in your designs.
---
Also from CSSconf EU, watch Chen Hui Jing explain how we can use DevTools to work with CSS Layout.
Our Sponsor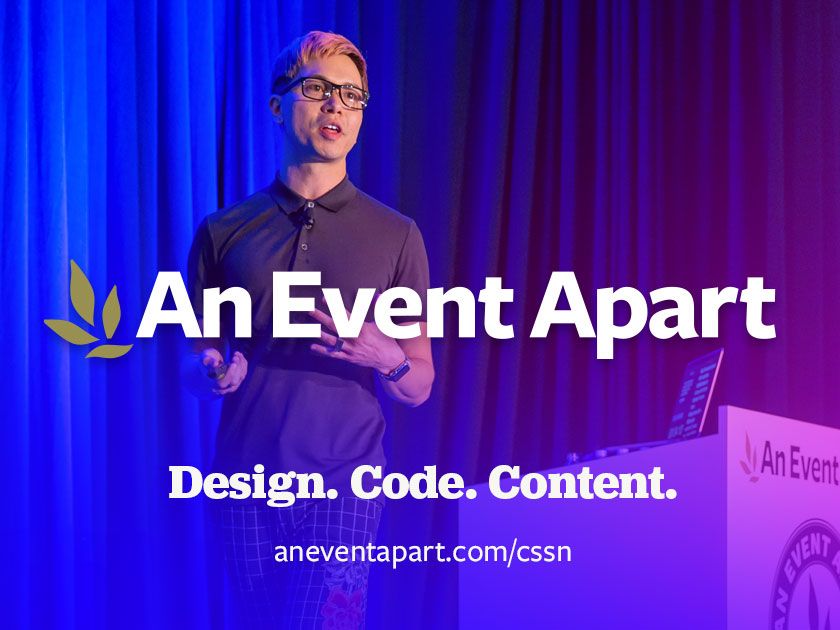 Learn what's new and what's next in UX, web, and interaction design. At the conference where Responsive Web Design debuted, mobile-first design premiered, content strategy made its first waves, and CSS-Grid-based layout arrived before other conferences knew it was coming.
Every An Event Apart in 2019 features three days of great speakers—17 of our industry's leaders, movers, and shapers on a single stage. What's new and what's coming is what AEA is all about. From designing with your customer instead of for them, to the Zen of whitespace; from variable fonts to voice UI design. Discover the future of web design conferences—and save $100 off any two or three days with code AEACSSN.
CSS Layout News Newsletter
Join the newsletter to receive the latest updates in your inbox.