Issue 215
Caniuse and MDN get together to provide more complete compat data for the web, HTML email compat data.
News
Issue 215
Hello from sunny Freiburg, Germany!
I've been here for a meeting with the Smashing Magazine team, plus SmashingConf Freiburg, which is happening right now. After this I'll be heading to W3C TPAC, this year in Japan, for a week of W3C and CSS Working Group meetings. September and October are always busy months, as we head into the final quarter of the year. Lot's to share this week including the collaboration between Caniuse and MDN, and a site like Caniuse but for HTML email compat - which was launched at SmashingConf.
Yesterday I hosted a Web We Want panel at SmashingConf. Check out the site and add your own wants for the web platform. If you can't be at one of the events, that's fine. The moderator can present your idea for you, or you can send a video. It's a great way to have your ideas for the platform discussed.
The sponsor this week is An Event Apart. There are two more events this year, and all of the dates for 2020 are now published. Maybe I will see you at one of them?
Rachel Andrew, CSS Layout News
---
Some excellent news of a collaboration between CanIUse and MDN as MDN compat data is now integrated into CanIUse. A good way to see how this works is to search for the gap property, you'll see the more granular tables from MDN detailing implementation status for gap in the various layout methods.
---
Announced at SmashingConf yesterday is Can I email, a site like Can I Use but for HTML email features. You can also read the release post.
Learn
In this article I take a look at overflow in CSS, and the concept of preventing data loss which is an important concept in the design of CSS itself.
---
Another of Andy Clarke's articles, this time deconstructing the work of Alexey Brodovitch and showing how to create designs inspired by this using CSS Shapes, and grid layout.
---
Ana Tudor takes an in-depth look at how to expand a box while keeping the border radius intact.
---
A post about using interaction media features, testing for the ability to hover, in order to progressively enhance functionality.
Interesting
A very nice demo, where the height of the grid expands as you scroll down.
Our Sponsor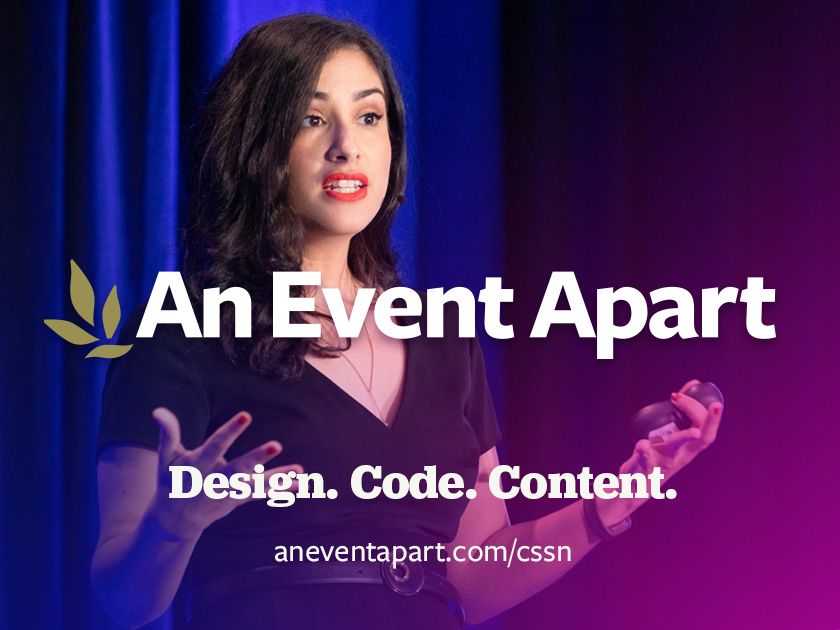 Get out from behind your desk and open yourself up to a whole new world of people and ideas at An Event Apart, the conference for people who design, write, and code. We don't just present what's happening now. We also look ahead to what's around the corner and down the road. Here are just a few of the topics folks heard about on our stage before the rest of the industry knew they were coming: responsive web design, mobile-first practices, content strategy, and CSS Grid.
Our speakers aren't just industry leaders with years of experience and deep insight. They're also engaging, inspiring thinkers who are passionate about sharing what they've discovered and helping you level up your skills. And you'll learn from your peers, too. Our attendees are dedicated professionals with experience and know-how from years in the field. They're some of the smartest people you'll ever meet.
So set yourself Apart. Come to your favorite U.S. city and connect with great designers and developers from around the world. Save $100 off any two or three days with code AEACSSN.
CSS Layout News Newsletter
Join the newsletter to receive the latest updates in your inbox.