Issue 254
Contributing to the web platform, high contrast mode, CSS variables.
News
Issue 254
Over the next two weeks I have a whole bunch of online things taking place. Later today, if you are quick you can sign up for the free of charge Smashing Meets event. I'll be speaking on the Evolution of Responsive Design. Then on Thursday and Friday I will be running my CSS Layout Masterclass - there are a few tickets left if you would like to join me.
Next week I will be speaking at the very first An Event Apart Online Together, your chance to hear a talk I won't be doing anything like as many times I thought I would this year! An Event Apart are the sponsor of the newsletter this week, in addition to the event next week, they are running a second event dedicated to Human-centered design. Take a look at the details in the footer of this email.
Rachel Andrew, CSS Layout News
Learn
This is great. A guide to contributing to the web platform.
---
A post with a round-up of tips and resources for learning about Windows High Contrast Mode.
---
In this article Eric discusses learning how to embrace an equivalent, inclusive mindset. Providing practical, robust ways to improve your websites and web apps by providing solutions to common, everyday barriers.
---
An excellent guide to CSS custom properties.
---
A really good rundown on fixed positioning, containing blocks and other related things from Chen Hui Jing.
Interesting
This is a fun technique, using CSS transforms.
Our Sponsor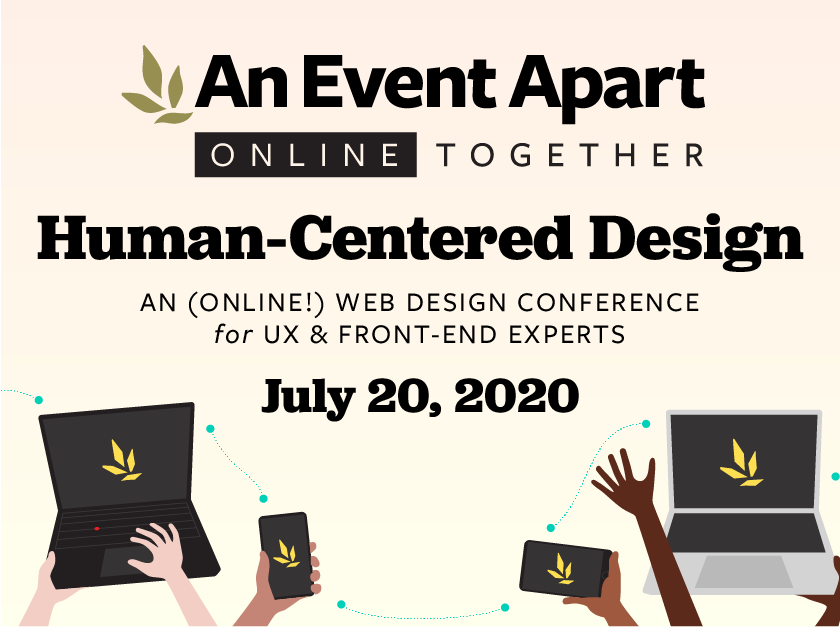 Join us Monday, July 20 for An Event Apart: Online Together, a single-day online web design conference focused on human-centered design—all the ways our work can impact users in personal ways, even when we don't intend to be so personal.
You'll hear from:
Margot Bloomstein, I Brake For Users: Content Strategy for Slower Experiences
Ron Bronson, The Researcher's Role in Reducing Consequence Design
Scott Jehl, Performance is Accessibility
Jeremy Keith, Design Principles for the Web
Morten Rand-Hendriksen, Practical Ethics for the Modern Web Designer
Aarron Walter, Designing for Emotion Revisited
All sessions will remain available to attendees, on-demand, for at least six months after the event is over, including the recordings of live Q&A sessions with the speakers. As we always aim for with our events, you'll come away not only inspired, but ready to put new techniques and ideas immediately into practice.
See the full agenda and register now.
CSS Layout News Newsletter
Join the newsletter to receive the latest updates in your inbox.