Issue 263
Performance and CSS, borders, and drop shadows.
News
Issue 263
It is incredibly hot here in the UK. I was recording a presentation for an in-house team last week, and had to do it in short chunks as my camera was overheating! Speaking of which, one of my lockdown activities is delivering remote training and talks for in-house teams who are all working remotely. I can do live or pre-recorded training and very happy to tailor things to your requirements. Drop me a line to discuss.
Sponsoring the newsletter this week is An Event Apart with their Front-End Focus event next week. Do check out the details in the footer. Use the code for a discount and so they know that I sent you!
Rachel Andrew, CSS Layout News
Learn
A post about the content-visibility property that helps to improve loads times by skipping rendering of offscreen content.
---
A post about the drop-shadow filter and the difference between it and box-shadow.
---
How do you name layout components? Some thoughts from Andy Clarke.
---
This is useful, getting a good contrast when you want to place text over a background image using HTML <canvas>.
---
A short post demonstrating how to use background-image for better borders, and explaining how the border generator built by Amit Sheen works.
---
Various ways to optimize CSS, to improve page load times.
Our Sponsor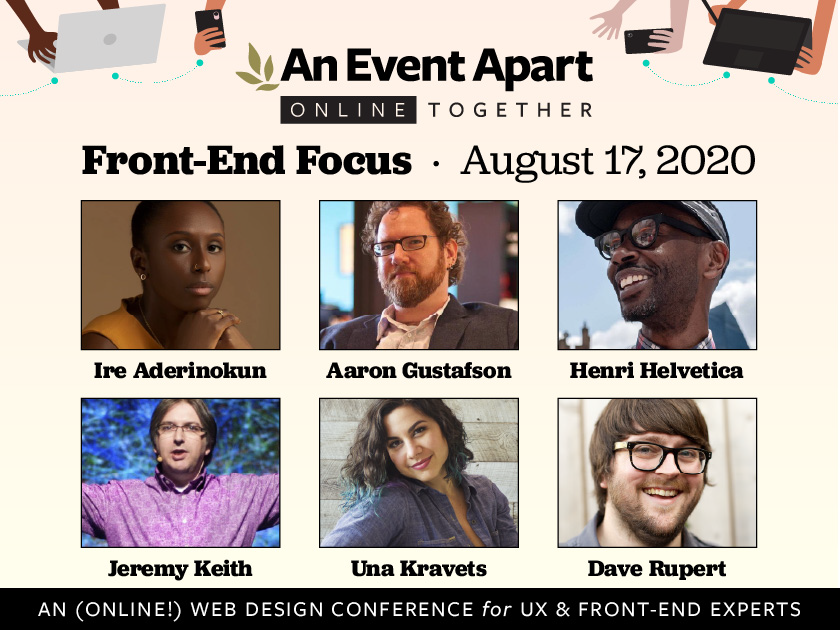 Explore the latest in CSS advances, best practices in design principles, surviving audits, improving performance, and more at An Event Apart Online Together: Front-End Focus—a one-day online conference coming to a device near you Monday, August 17.
Front-End Focus features 6 in-depth sessions from Ire Aderinokun, Aaron Gustafson, Henri Helvetica, Jeremy Keith, Una Kravets, and Dave Rupert, plus a live moderated Q&A with each speaker after their session, live message boards throughout the event, and on-demand access to the session recordings for 6 months.
CSS Layout subscribers can save $50 off registration with promo code: AEACSSL20
See the full agenda and register now.
CSS Layout News Newsletter
Join the newsletter to receive the latest updates in your inbox.