Issue 267
Custom list bullets, browser diversity, JavaScript Media Queries.
News
Issue 267
I am writing this while waiting to present at the online SmashingConf Freiburg. Sad not to actually be in Freiburg with the team, but we have been having a fun couple of days anyway. You can find my slides here.
I also have my CSS Layout Masterclass scheduled for the end of the week, there are a few tickets left. I'm not sure when I'll next be doing one of these so if you fancy spending a couple of sessions getting to grips with layout with me, take a look here.
An Event Apart are my sponsor this week, they have an amazing line-up of speakers for their Fall Summit, online in October. The footer of this email contains more information and a discount code.
Rachel Andrew, CSS Layout News
---
Chrome 86, which will become the release version of Chrome on October 6th, will container support for CSS ::marker.
---
This looks interesting, an online event about modern image formats. Not CSS but I figured there might be some crossover here.
Learn
Useful information about using matchMedia is JavaScript.
---
As a non-designer I found this piece - which I edited for Smashing - really helpful. I thought that it might be a useful primer for other front-end folk who aren't all that familiar with Figma too.
---
---
A nice piece about styling form labels to make the information easy to understand for all visitors to your site.
Interesting
A good piece musing on the pros and cons of browser diversity and an increasingly Chromium-shaped web.
Our Sponsor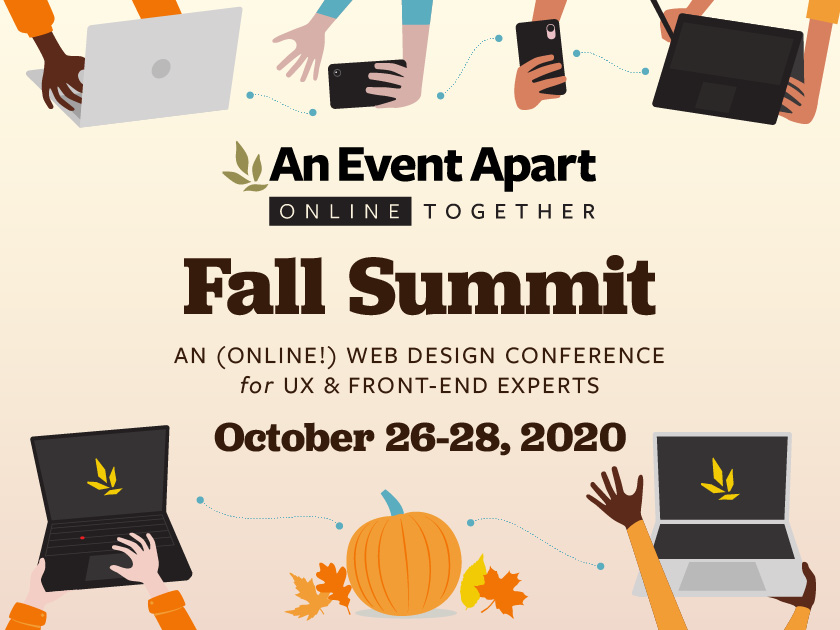 An Event Apart Online Together: Fall Summit is a three-day web design conference with an intense focus on digital design, UX, content, code, and more—featuring 18+ in-depth sessions, live Q&A with the speakers, and one-on-one conversations with special guests. You'll get deep insights into where we are now and where things are going next.
Attending Fall Summit will boost your brain, inspire your creativity, and increase your value to your teammates, employers, clients and most of all yourself.
You'll learn about advanced CSS from Miriam Suzanne and Una Kravets, design systems and patterns from Mina Markham and Jason Grigsby, design engineering from Adekunle Oduye, inclusive design from Sara Soueidan and David Dylan Thomas, and much, much more.
CSS Layout subscribers can save $100 on any multi-day pass with promo code: AEACSSL20
Join us online October 26-28. See the full three-day schedule register now.
CSS Layout News Newsletter
Join the newsletter to receive the latest updates in your inbox.