Issue 317
RenderingNG, GridNG, OpenUI, and (the lack of) AVIF in Safari.
This week the majority of the articles I've collected are about browsers and rendering engines. I do enjoy the fact that so much more browser work is being done in the open these days, with designers and developers being asked for their feedback. So do give that feedback, if you spot something that you have opinions on, it may well make a difference to an emerging part of the web platform.
Also this week, I dug out a copy of the first edition of my book, The CSS Anthology. It included solutions to problems such as, "Some of my content is appearing and disappearing in Internet Explorer 6", and, "How do I hide CSS from Netscape 4?" We have come a long way since 2004.
Rachel Andrew
News
An update on the work being done by Microsoft on GridNG to reimplement CSS Grid Layout. Details of the bugfixes that are in Edge and Chrome 93, plus a hint that subgrid is on the way. Very exciting!
CSS Cafe presents Melanie Richards & Greg Whitworth - Open UI: Solving a Multi-Decade Problem. Signup and watch online, I'm hoping there will be a recording as it is right in the middle of West Coast/Europe crossover time, where all my meetings live.
---
Learn
Another deep dive into RenderingNG. This is the third in a series of posts on developer.chrome.com digging into RenderingNG, I've been editing these, and definitely know more about how the browser renders a webpage than I did before!
A reminder to test your sites with scrollbars showing (if you use a Mac) as otherwise you may not spot scrollbar-induced layout shifts.
An explanation of why Safari does not support the AVIF image format.
---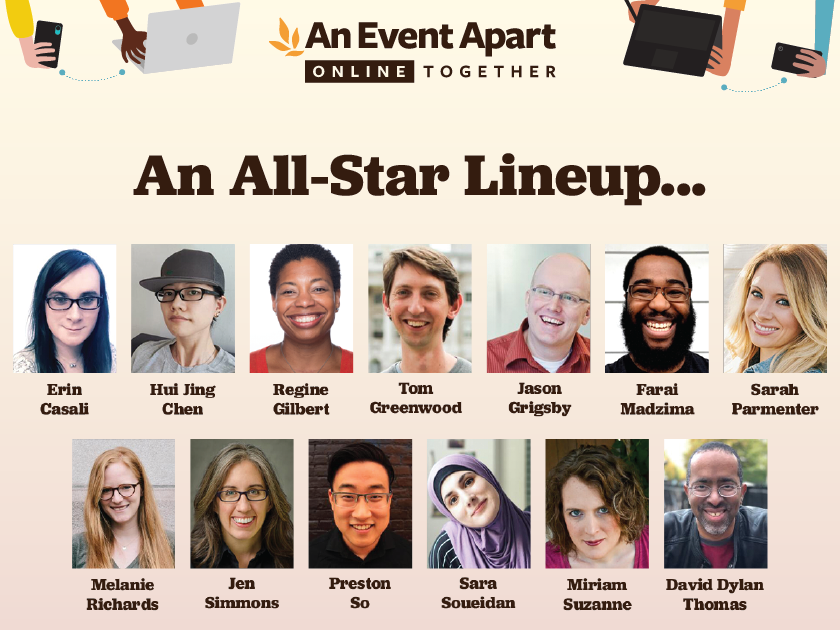 Join us online October 11–13 for An Event Apart Online Together: Fall Summit 2021, a three-day conference with an intense focus on digital design, UX, content, code, and more.
Fall Summit 2021 features fifteen in-depth sessions, each followed by a live, moderated Q&A session with the speaker, plus a special session at the end of each day.
Spanning the spectrum from climate-conscious development to design beyond the screen, and from advanced CSS to inclusive design and development, this three-day online web design conference will give you deep insights into where we are now, and where things are going next.
CSS Layout subscribers can save $100 off any multi-day pass with promo code: AEACSSL21
Don't miss out—see our detailed three-day schedule and register today!
CSS Layout News Newsletter
Join the newsletter to receive the latest updates in your inbox.